Bamiyan Trip: From an Orphan Child to a Business Woman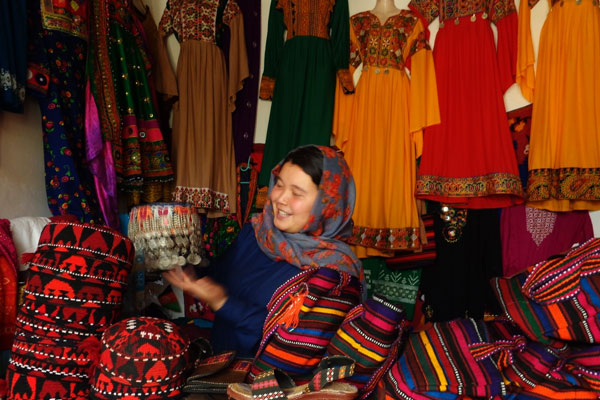 Writer: Sharifa Pasun
We had a memorable trip to Bamyan province. As I walked to Bamyan airport, the cool breeze redeemed our souls and I enjoyed it with deep breath for we were tired of Kabul pollution.
I asked my friends about women's economic activities, she mentioned about women handicraft shops in central Bamyan near the road.
As we got there, I meet with Zahra, the head of Gowhar-Shad handicraft association. It was nice to meet with Ms. Zahra and know about her life. She narrated her life story:
"Afghanistan situation on that time, made my family to migrate to Iran and I was 2 years old that I lost my father. I was 9 years old that we returned to Afghanistan. My mother, a widowed woman and me, a 9 years old orphan, were working to earn and run that hard life. In our neighborhood, the life was so suffering for other women too. They had lost their family members, (their husbands and sons) and they were working the same as me and my mother did."
Zahra was skilled at handicrafts, as she had worked from her childhood with her mother. She had no money to run a work, she loaned some money from her relatives and recruited a number of women to run the handicraft association. She prepared the raw material with designs for women, and had opened a shop in bazaar to sell those products.
In the past, residents of Bamyan were not optimist about women to do work in cultural, economic, political and educational fields. They even did not allow women to go for shopping. As Zahra opened her shop in the bazaar, the male shopkeepers in the bazaar thought that a monster has come to the bazaar. it was a shocking news for them, therefore the elders gathered and talked to the families of the business women to stop them because they thought that the business women could be a bad example for other women and may mislead them. Zahra wanted to close her shop that some of open-minded relatives motivated her not to give up; they told her about Islamic laws and Afghanistan constitution in this regard which allow women to work.
Zahra adds: "The very first year that I opened my shop, some people did not want us to work there and created problems for us; they even one day placed a bomb in a bicycle near our shop that the blast damaged our shop, but fortunately that couldn't harm me and my mother."
The new picture of Bamyan reflects the contribution of women in economic growth. Women can go to bazaar and they even can work; there are about 30 women associations each with 40-50 employees. There are 60 employees in Zahra's association.
Zahra continues: "The products are being sold in bazaar. To increase the transactions, I had gone to some provinces (Qandahar, Herat, Mazar-e-Sharif, and Nangarhar), we had joined to international exhibitions, and have gone to India, Pakistan and Tajikistan. As a result of those persists toward those unacceptable traditions, women in Bamyan province are now working in cultural, economic and other fields. A number of women have become Self-sufficient and it is a good news."
Zahra, a 21 years old lady, travels to provinces to provide her employees with raw materials.
She also says: "Afghanistan handicraft specially those made in Bamyan province have high quality and more demands as they are all made by skillful women not by machines. For instance, women spine the sheep wool, dye it, and finally weave carpets."